Local Wildfire Mitigation
In response to the Healthy Forest Restoration Act (HFRA) in 2003, Congress directed Wildland-Urban Interface (WUI) communities to prepare a Community Wildfire Protection Plan (CWPP). The CWPP is a strategic plan that identifies wildland fire hazards in the district and outlines prioritized mitigation recommendations.
The CWPP can be a significant educational tool. It provides ideas, recommendations and guidelines for creating defensible space around the house and reducing structural ignitability through home improvement and maintenance. Our initial CWPP was finished in 2008, and the current version was updated in 2013 to reflect changes in the district due to the Fourmile Canyon Fire and to account for the Fourmile Canyon Fire Findings.
This document reflects the work of many dedicated community volunteers.
Please be fire savy with information on this
CWPP fire prevention flier.
2008 Community Wildfire Protection Plan
2013 Community Wildfire Protection Plan
Minutes:
2015 CWPP Planning Meeting
2016 CWPP Planning Meeting
2017 CWPP Planning Meeting
2018 CWPP Planning Meeting
2019 CWPP Planning Meeting
2020 CWPP Planning Meeting
2021 CWPP Planning Meeting
2022 CWPP Planning Meeting
The CWPP projects are chosen and administered by the CWPP Committee, a group made up of community volunteers and open to all residents. The committee meets annually in the winter to outline that year's projects. SFPD has a dedicated tax that helps fund mitigation projects in the district, and the committee uses that money to leverage matching grants whenever possible. For more information please contact Committee Chair Abby Silver abberoo(at sign)msn.com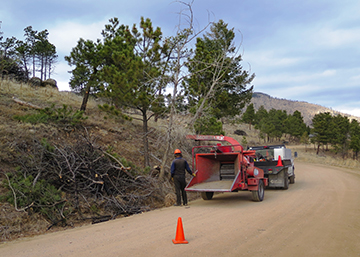 Accomplishments before 2015, please see planning meeting notes above for accomplishments starting in 2015.
2008 - Ballot initiative 5A passed, CWPP funded
2009 - Shaded Fuel Break, Ingram neighborhood
2010 - Fourmile Fire…planned Shaded Fuel Break obviated
2011 - Shaded Fuel Break, Townsite neighborhood
2011 - Fall community chipping event
2012 - Sunshine Saddle/Mine Road egress route completed
2012 - Fall community chipping event
2012-2013 - Community sign project phase 1
2013 - CWPP document updated
2013 - Defensible Space project
2013 - Sunshine Canyon Drive shaded fuel break CR83 to mile 4
2013 - Fall community chipping event
2013 - FireWise Community recognition
2014 - Sunshine Canyon Drive shaded fuel break miles 4-2.8
2014 - Whispering Pines shaded fuel break
2014 - Spring & Fall community chipping events
2014 - Maintenance of earlier shaded fuel breaks
2014 - Defensible Space project grant completed, program closed