Evacuation Order
If you are signed up for the emergency alerts, please add this phone number to your phone: 303-441-1400. Evacuation alerts will come from this number.
What should you do when you receive an evacuation order? There are different evacuation notifications: pre-evacuation and mandatory evacuation notices. If you receive a pre-evacuation notice, start to gather your essentials in preparation to evacuate. When you receive a mandatory evacuation, it is time to go.
If you decide not to evacuate
Once a mandatory evacuation order has been issued for your area, the County has done its job and is not going to ask you to evacuate a second time.
Power is likely to be turned off, so your garage door motor will not open the garage door, and your well, refrigerator, and electric stove tops will not work.
Phone lines may not work to make a call. 911 calls may be handled by a fire team and response may be delayed or unavailable.
If you decide to leave your house once the fire is visible, roads may already be compromised by fire/smoke. Smoke can be so thick that driving becomes unsafe for you and others on the road.
Remaining in your home puts firefighters at additional risk. If you decide to escape during the fire, you become a hazard to firefighters working and traveling on the road. You will cause additional stress and concern for firefighters if you stay in your house, putting them at risk if they try to help you during the fire.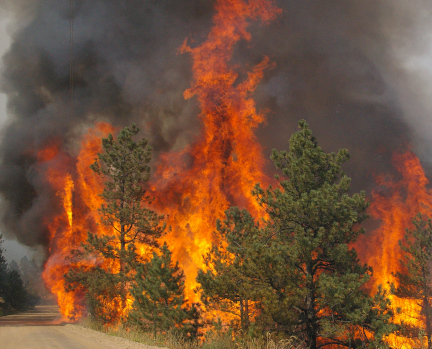 Information on Evacuations
Keep these six "P's" ready in case immediate evacuation is required:
Papers, phone numbers, and important documents
Prescriptions, vitamins, and eyeglasses
Pictures and irreplaceable memorabilia
Personal computer hard drive and disks
"Plastic" (credit cards, ATM cards) and cash
Before ever being asked to evacuate
Have a check list of what to take with you, (in paper form in case the power goes/is out)
Make a video of everything in your house in case you need it for an insurance claim
Store your video in a safe deposit box or with someone far enough away to not be affected by the same disaster
Make copies of receipts and store them off site
Know all your evacuation route options
Links to more information
This is a great informational page on evacuating
Stories from campfire in paradise valley evacuations
Bring your own brigade
We know it is stressful and scary to evacuate your home. Please have a plan on where to go, a check list of what to take and leave when asked.
Thank You from Sunshine Fire Protection District